Intelligent Window Clean Robot/HY-RW860
Clean your life, change for you.
The device is simple in appearance, which runs intelligent operating system to be remotely controlled with one key. Centrifugal air compression to make suction as strong as a tornado. To adopt for keeping suction long, cleaning more easily. And the built-in anti - drop detection system. This is for many families to solve the trouble, take you into the bright world.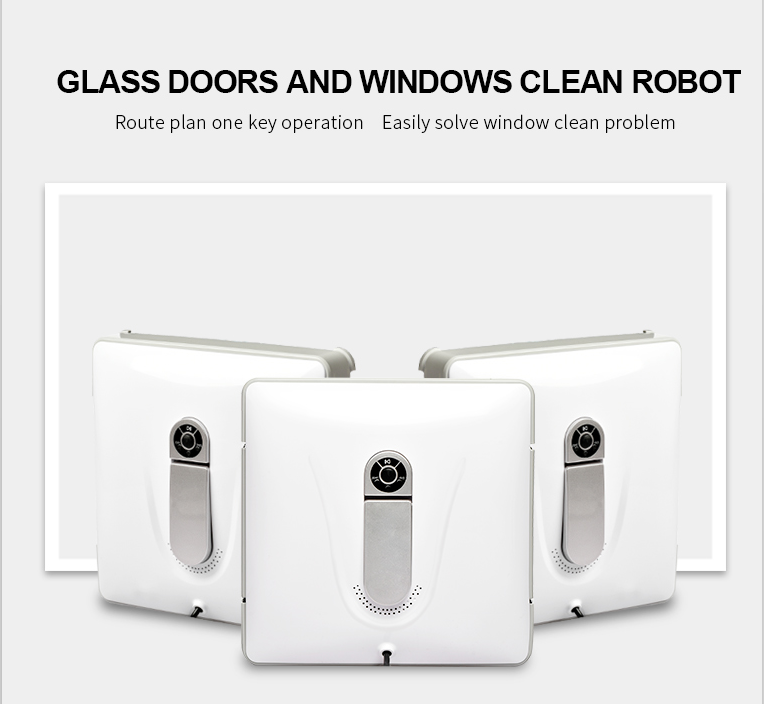 Functions and Features:
1) Intelligent new technology: Intelligent chip control, using 32-bit ARM architecture, to make the machine run more stable and faster; Multi-function design such as wet and dry to solve the trouble of household cleaning.
2) One button intellectualization: No matter on the sofa or on the bed, wipe the window no longer to worry about on the high floor, the remote control is pressed gently and the working state is mastered manually.
3) Full protection against falling: Falling sensor is available on all four corners, intelligent detection of precise window edge, and glass larger than 5mm can be used.
4) Intelligent anti-collision detection: it can automatically detect surrounding areas when running on glass, and it is lightweight to avoid obstacles.
5) Intelligent cleaning mode: N+Z path, N zigzag path, Z zigzag path.
6) brushless motor technology: high quality, high speed and low wear, ensuring suction and reducing noise.
7) The vacuum centrifugal fan has strong and powerful adsorption, and there is no need to worry that it will fall down when operating, and the two-side track moves faster.
8) Enclosed and built in design, it adopts dazzling white body, high quality ABS engineering plastics, and has excellent mechanical properties of toughness, hardness and rigid phase balance.
9) Low noise, no interference. At home drink tea & chat, work & relaxed mood, will not disturb themselves, clean and lower noise, more comfortable.
10) Small and light, safe and reliable. Ergonomic, ultra-thin body, easy to grasp, easy to take off.
11) Ultra-fine fiber, efficient clean. Microfiber particle size of 0.4Pa is more effective in capturing dust particles as small as a few microns.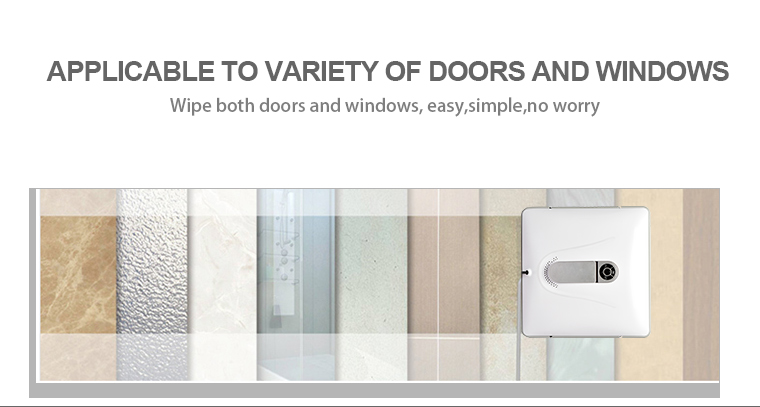 Key Parameters:
| | | | |
| --- | --- | --- | --- |
| Items | Parameters | Items | Parameters |
| Color | White | Material | ABS engineering plastics |
| Input Voltage | AC 100-220V | Output Voltage | DC 24V |
| Rated Voltage | 220V | Rated Power | 75W |
| Battery Type | Ni-Cd | Battery Capacity | 600mAh |
| Charging Time | 2.5h | Working Time | 30m |
| Work volume | ≤50dB | Work efficiency | 1m2/120s |
| Glass thickness | >5mm(No requirement for framed glass) | Clean ratio | 99% |
| Fiber particle diameter | 0.4Pa | Suction | 2500Pa |
| Net weight | 1.3kg | Dimension | 25.6* 25.6*6.8cm |